제공방공용 전투기 JA-37DI 비겐(JA37 Jakt Viggen (Air to Air Fighter)
아래는 비겐의 개량형별 세부 설명입니다. 맨마지막에 JA 37개량형 JA37DI의 설명이 있습니다.
●AJS 37 - modification
Starting in 1992 a total of 115 Viggens were modified. It was AJ 37, SF 37 and SH 37 that was converted to a new variant called AJS 37.
This was due to that the deliveries of JAS 39 Gripen haven큧 started as the original plan, which was 1992. Meanwhile RB 15F and bomb dispenser M/90 Mjolner was ordered and deliveries had been started.
The modified aircrafts was given a multirole capacity as a pre-step before JAS 39 Gripen. No life extension were included in this package.
The modification were in two steps:
1. Capability of carrying RB 15F and M/90 Mjolner(1992-1994)
2. Capability of carrying RB 74 (1996)
Each variant got its own designation:
1. AJ 37 became AJS 37
2. SH 37 became AJSH 37
3. SF 37 became AJSF 37
●From AJ 37 to AJS 37
The modified AJ 37:s got the opportunity of carrying more weapons and use more hardpoints than before.
AJS 37:s weren큧 planned to do recon missions, but they can do recon missions with hand cameras and through radar surveillance.
AJS 37 were phased out of service with start in 1997 and in 2000 the last AJ 37 were phased out - 37027 from 1. division F10.
●From SH 37 to AJSH 37
The modified SH 37:s got the biggest upgrade in the AJS-modification and can after modification carry all the same weapons as AJS 37 and is therefore the variant that got the most multirole capacity in the entire Viggen-system.
Even after modification they could do their recon misssions as they were originally build for.
●From SF 37 to AJSF 37
Since SF 37 lacks a radar due to cameras in the nose, some attack weapons couldn큧 be integrated in to AJSF 37 in the same way they were integrated in to AJSH 37. The biggest change on the AJSF was the opportunity to use more hard points than before and always carry at least 2 RB 24:s for self defence during photo missions.
The remaining AJSF 37:s are used in Swafrap, but from 2004 they are replaced with JAS 39 Gripen, but without any recconnaissance capability.
●SK 37E ECM Modification
When Lansen were phased out in 1997 the decision were taken to modify 10 SK 37:s to SK 37E.
The delivery started in 1999 to F 4 in ?tersund.
The modified aircraft got equipment for electronic countermeasures
●JA 37 modifications JA37DI
JA 37 have been upgraded at several stages during its service.
Some of the changes are:
The radar PS-46/A got the possibility to track more targets now.
Mod C: PS-46/A got better protection against electronic countermeasures and other minor upgrades.
Mod D: Introduction of TARAS, capability of carrying U95 and RB 99 AMRAAM. Opportunity for PS-46/A to simulate enemies.
Mod DI (D+) : Second phase in mod D-pacakge. Adjusted for abroad service (for example PFP missions).
대표 이미지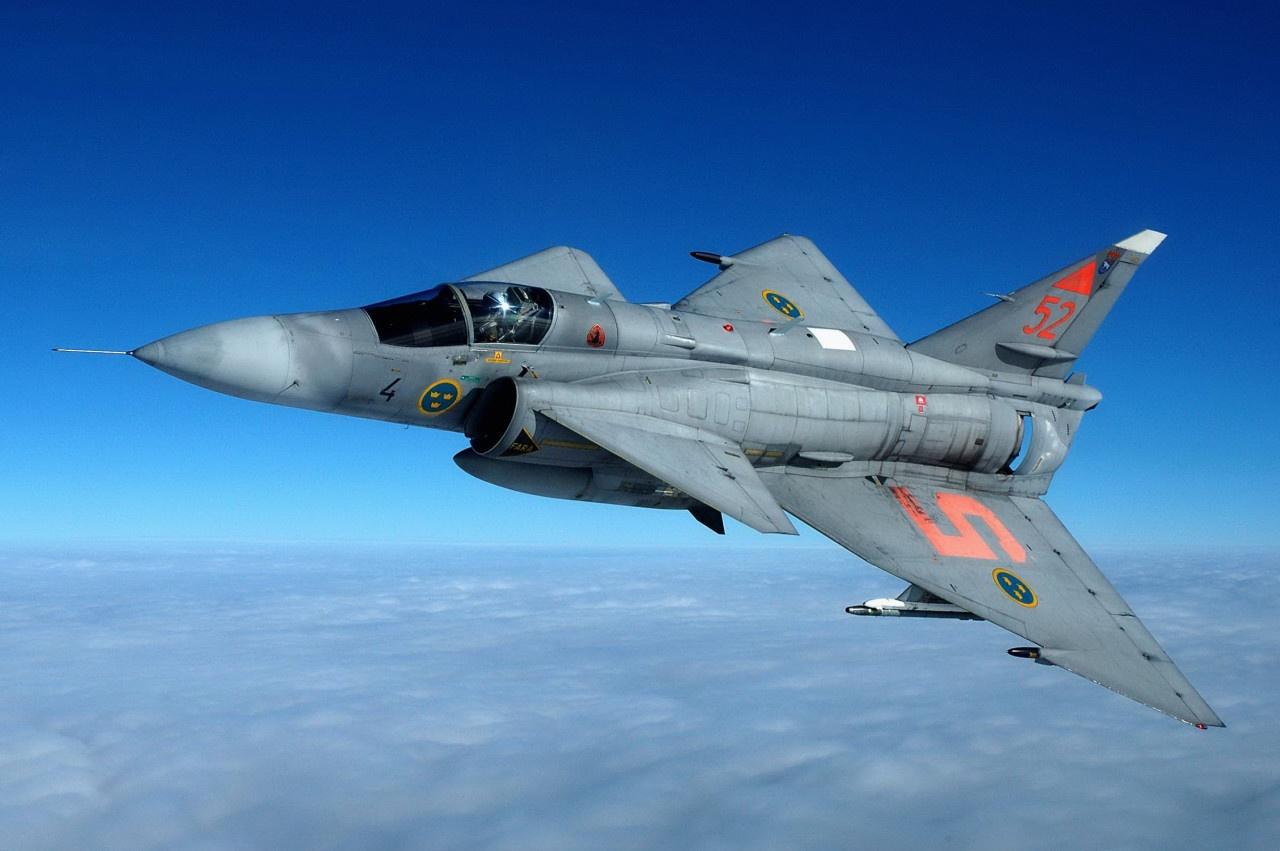 040928-Saab JA37DI Viggen-01.jpg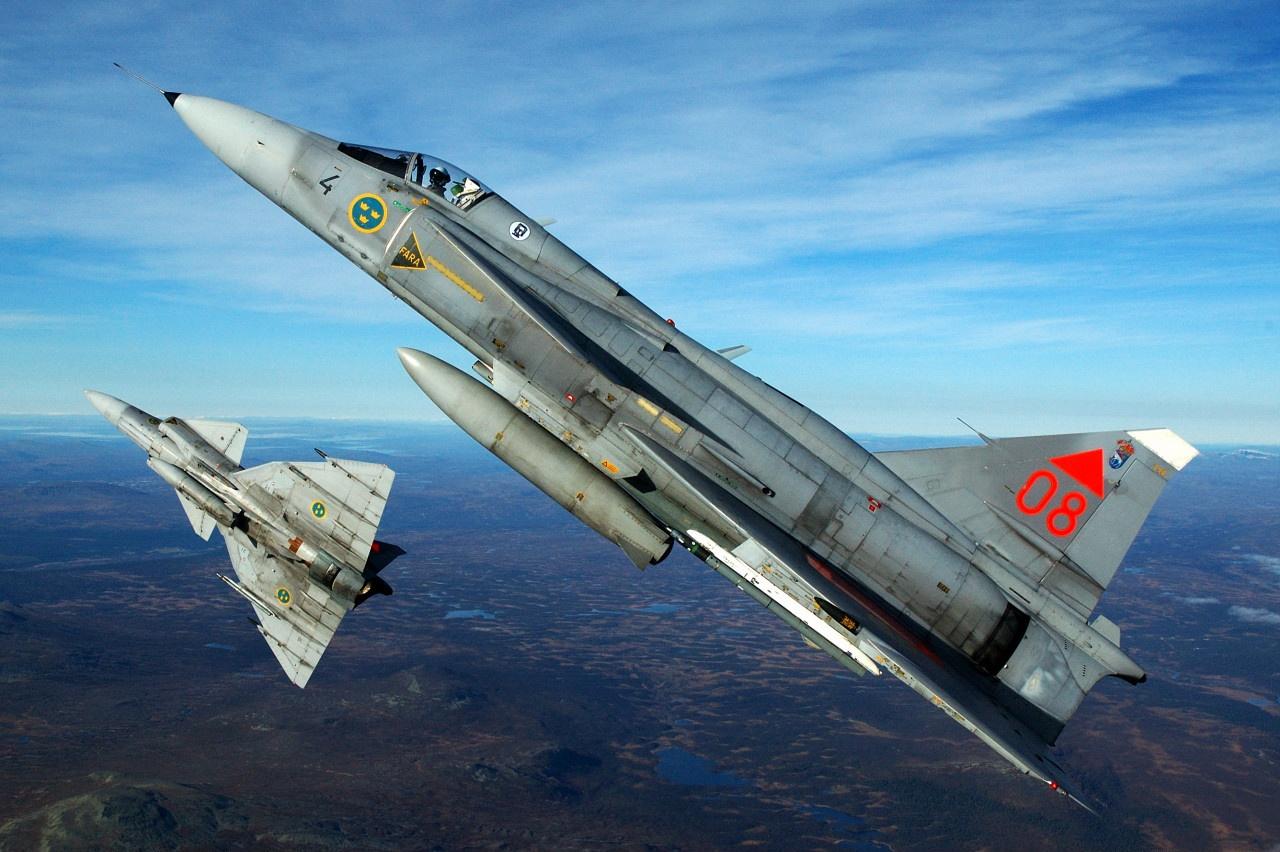 040928-Saab JA37DI Viggen-02.jpg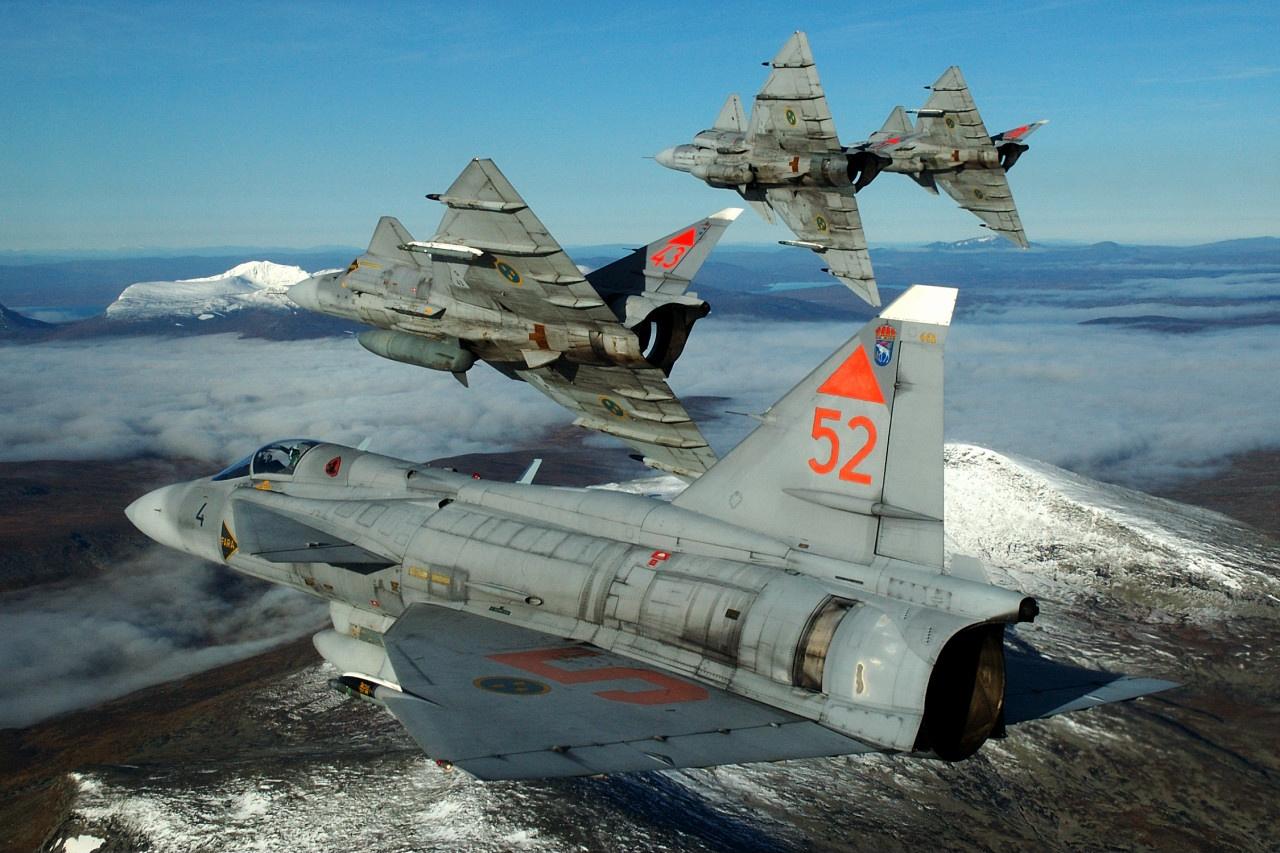 040928-Saab JA37DI Viggen-03.jpg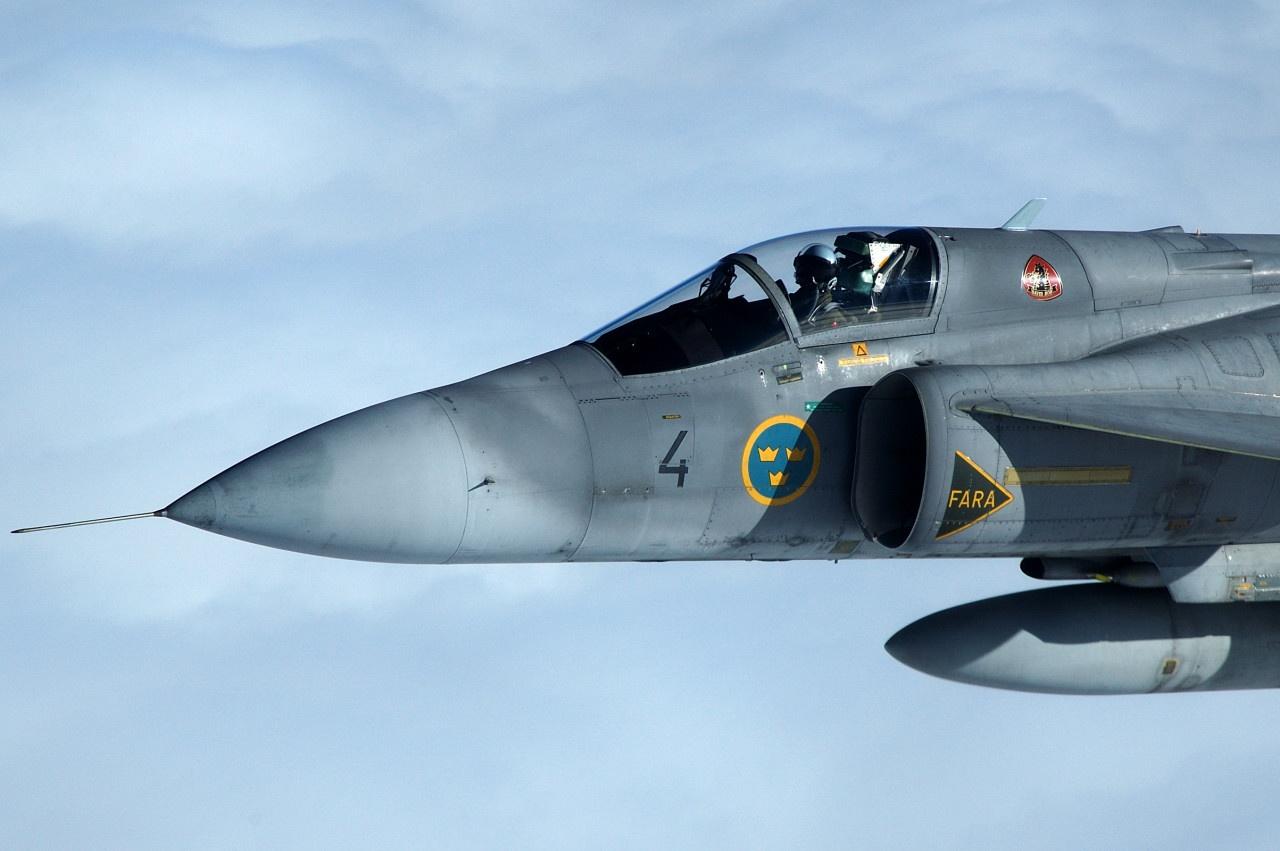 040928-Saab JA37DI Viggen-04.jpg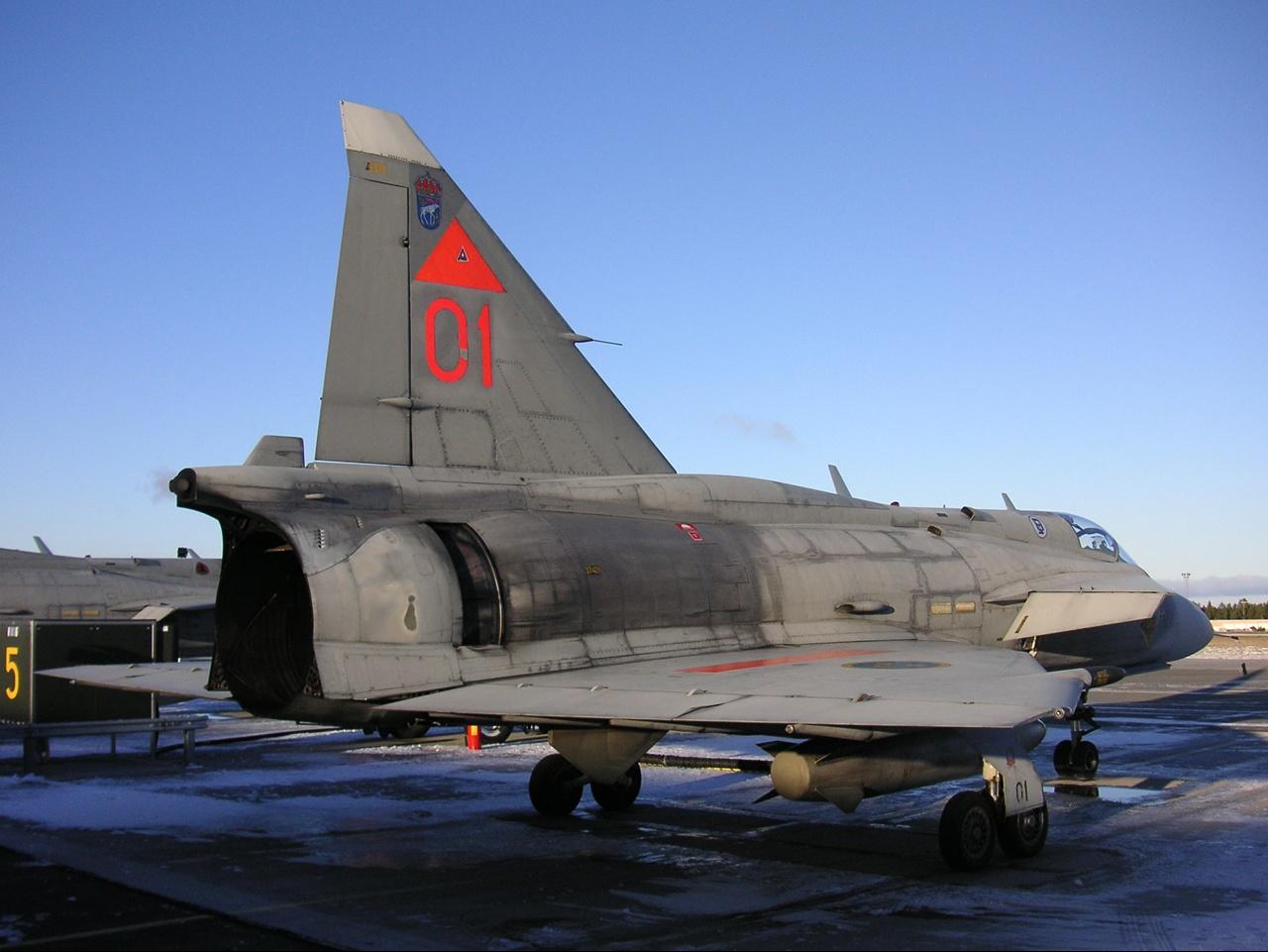 041117-Saab JA37DI Viggen.jpg